1.9" Steel Beadlock D Hole Wheels 2 BLACK 12mm Hex Scale Bolts G2 SSD SSD00003
SKU:

SSD00003

UPC:

0617135684366

MPN:
Description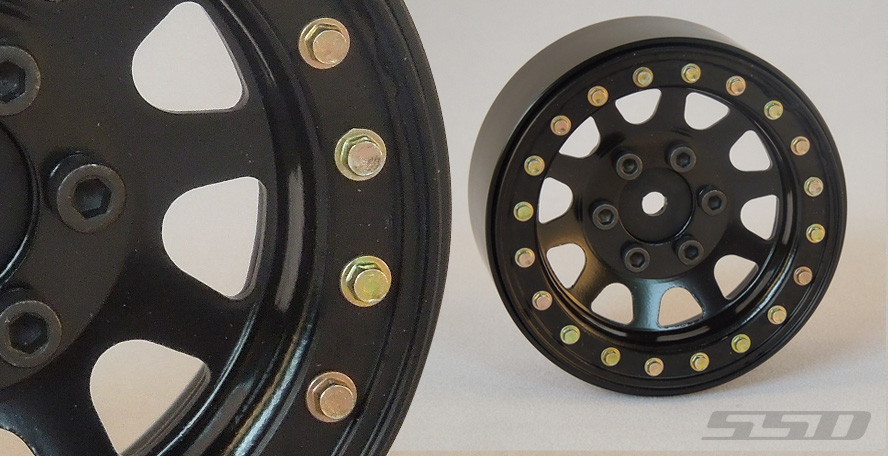 Part No. SSD00003
1.9" Steel D Hole Wheels (Black)
Standard 1.9" wheel size
Standard 12mm hex mount
Internal beadlock system
Removable hub
Stamped steel wheel with zinc plated finish
CNC machined aluminum hub and rings
Specially made scale steel hex head bolts with
yellow zinc plating
Width: 22mm
Offset: +1.5mm
Backspacing: 10.5mm
Weight: 76g
2 X Complete assembled wheels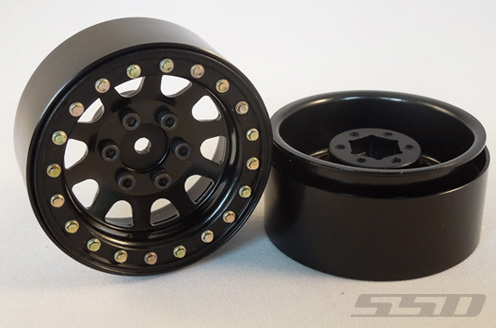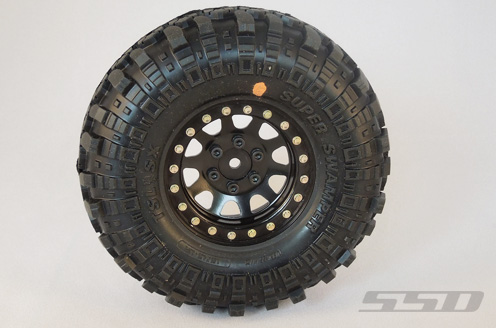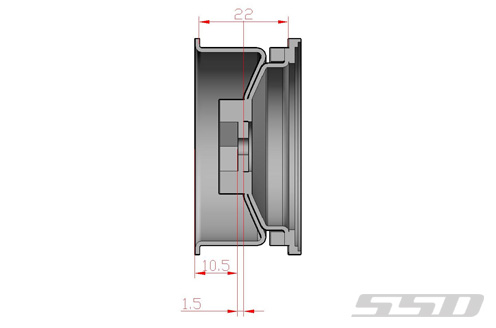 View All
Close
4 Reviews
Absolutely perfect on my capra , no clearance issues even with the added weights .

Well made wheel with great looks

Second set of SSD 1.9's I have purchased. Look great mounted on my Custom Unimog Crawler. Only reason I didn't 5 Stars is that the bolts for the hub are not scale bolts like the beadlock ring one's are.

I mounted these to my 1.9 Proline Flat iron XL tyres. Great aggressive look and still scale with the details. A bargain at £29.99!

Excellent Service, product slightly disappointing

Excellent service, and product arrived quickly. Managed after a struggle to fit the wheels to the Vaterra Twin Hammers tyres that are included in the kit. Length of hub screws made it very awkward to hold both parts of the rim together whilst getting the screws into the hub. I resorted to using two long screws to locate the rim and screwed them into the hub, thus pulling the two halves of the rim together; I was then able to fit four of the short hub screws. Finally, I removed the two long screws and fitted the remaining short screws; maybe this could be pointed out to prospective purchasers. However, my reason for slight disappointment involves the circle of yellow rim bolts. As good as they look, they are not secure in the rims. One went missing whilst constructing the kit, which I luckily found in the vacuum cleaner! I checked the rest and found one that was not fully screwed home. It was at a slight angle to the hole and would not screw in any further, so I suspect a damaged thread. In fairness, the website does advise that the screws should be checked for tightness, but I have searched the web for a 2mm socket to tighten the screws, but cannot find one anywhere. Using pliers or anything else will ruin the screw heads and probably mark the wheels. Again, the "bolt" heads look excellent, but are they an unnecessary complication? I hope I don't lose any more screws once I actually get to operate the kit. UPDATE - Now supplied with spare bolts. TIP - Use a Hex bolt that takes a 2mm driver as the 'socket' to tighten.
View All
Close