Tools
The basic tools every hobbyist should have
The basic tools every hobbyist should have
Many people getting in to the RC hobby are wondering what kind of set of tools they should have. There's not any right answer to this question, but in this article we'll go over the most basic tools, equipment and accessories every hobbyist should have in their tool box.
Tools
The most important thing about tools is quality. Especially the screw drivers should be top quality and have handles. Proper tools with machined tips will keep the screws in your car in good condition for a long time. Especially with allen screws it's crucial to have matching screws and screw drivers. A tip that doesn't fit or a tip that's too soft will wear out the screw's head. We recommend investing in quality rather than quantity.
Tool sizes
Nearly all modern RC cars use metric screws and have allen screws. Note. Some manufacturers still use imperial size screws. There is good selection of tools for those available. This makes choosing tools much easier because you can use the same tools with every car. When looking at people's tool boxes at the pits, you can see old tools that may well have been in use for 5–10 years. The better tools have replaceable tips , so it's worth it to invest in a tool with a good handle.
You can use the same tools for cars of sizes 1:12, 1:10 and 1:8. Allen screws come in 4 different sizes and they can be found in cars of all sizes. 1.5 mm, 2.0 mm, 2,5mm and 3.0 mm are the most common sizes, of which 2.0 mm is by far the most common. You can get a set including all of the sizes or buy them separately. If you're past the beginner stage, it's still good to keep spare tips in the tool box, especially for the 1.5 mm and 2.0 mm tools. The sand/mud on the head of the screw might wear down the tips of the tools so replacing it might come into question if you don't want waste time with ineffective tools.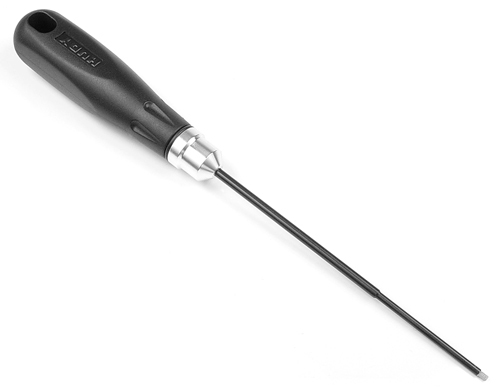 Socket wrench (for nuts) are also among the basic tools for RC hobbyists. The most common sizes in the 1:10 category are 5.5 mm (M3 nuts) and 7.0 mm (M4 nuts), and in the 1:8 category, well add a 17mm wheel nut wrench to the selection of required tools.
Other tools that may come in handy:
In addition, the assembly of some car kits may require other tools as well, but the ones mentioned above are usually enough.
Other equipment
Every driver and hobbyist have their own set of tools and equipment, but let's go over some of the basic things that the more experienced drivers are likely to have in their tool boxes.
Pit Mat: Helps to keep the environment clean and provides a clean area at the pit. It's especially handy when there are no space around for RC cars. Just roll out the mat on a desk and roll back up when you're done wrenching.
Screw tray: Helps you to not lose screws especially at the pit.
Double-sided tape: For mounting the electric components
A brush For removing mud and dust after runs
Cleaning cloths or paper towels
A work stand makes it easier to handle your car
A selection of screws used in your car kit. If you have a faulty screw, it's a good idea to replace it with right away. Blunted screw head might not happen only with old screws, so always keep a few spare screws of different sizes in your tool box.
Spare batteries for the controller
Fluids
Detergent: Brake cleaner or equivalent
Tire glue: Basic equipment in every tool box.
Shock and diff oil: your car's default oil. If you don't have new oils for your car during service time, it will cause a major interruption to your day at the track.
Threadlocker: Blue basic threadlocker (medium). Threadlocker is needed for the set screw on the driving axle, fastening the
Oil for the bearings: After servicing and cleaning your car, a drop of oil on the bearing will extend their life span and reduce the cost of the hobby in the long run.
Product
Qty in Cart
Quantity
Price
Subtotal
Adding your products to cart